Well folks I am almost prepared to accept cricket as a real sport, not quite but a little bit. And it is for one reason only; the ineptitude of the governing body.
Recently the BCCI (Board of Control for Cricket in India…. Sick name) has stated that they have "no concern in personal matters" which sounds a lot like the NFL's stance on domestic violence as well.
On Tuesday a court in India issued an arrest warrant for Indian national team Fast-Bowler Mohammed Shami, he will have to turn himself in within 15 days.
Currently India is playing a test series in the West Indies, I am guessing that the extradition policy there is pretty lax, not suggesting you just don't go home Mohammed, but it seems like a real option.
Now accusations of domestic violence are nothing to be taken lightly, (Though based on past practice Roger Goodell thinks differently) and I do not want to confuse anything.
Shami, is not accused of hitting, or physically abusing his wife in anyway, or at least not according to the indictment, in fact looking at Shami's schedule it is difficult to see when he would have had the time in the last 3 months with near constant international matches. However this may be just enough to dethrone Ben Stokes as the biggest jerk in cricket this week.
Shami's wife alleges that Mohammed and his family placed an excessive amount of "sleeping pills" in her food in an attempt to poison her. Which to be honest seems like about the most polite way to commit murder in history. I will put it this way I think that death by sleeping pill is less heinous than breaking a 3 year olds arm, (Tyreek Hill, no suspension) or punching your wife out in an elevator, (Ray Rice, 2 games), or fighting dogs (Michael Vick, 2 games).
(For reference Josh Gordon, failed several drug tests for Marijuana, 44 Games in total)
Now this is not to say that the BCCI isn't taking some of the allegations seriously.
There was an accusation that he received money from a British individual through a proxy in Pakistan, and that level of scum-baggary just cannot be allowed to exist.
Just in the way that the NFL may let somethings go with a little talking to, there are some that just cannot fly, the alleged deflating of footballs (Brady, 4 Games) or the taking of fertility drugs to try and have a child (Golden Tate, 4 Games).
It is nice to see that all around the world professional sports governing bodies have the same set of stout morals and stringent attention to what is really important in player conduct.
The CEO of the BCCI went so far as to write a personal letter to the US embassy after Shami's visa was rejected in the wake of the accusations, citing his contributions to the nation of India, and how important it was that he play. The BCCI's official statement on the arrest warrant was short and sweet, basically stating that they had no doubt that he would "do the needful, and be back for the 3rd test." Shami's estranged wife said that she felt that he was "too powerful of a man" to have her voice heard and that going after a "big cricketer" (oximoron) was quite the challenge.
The BCCI may only be focusing on the corruption charges but the police seem determined to get to the bottom of the sleeping pill mystery and shockingly (within the world of professional athletes) seem to be taking some of the wife's story seriously.
I have very little knowledge of the justice system in India, I would imagine that it can be quite interesting, but hope that it can find its way to the truth and bring some justice to the situation.
I do however know of one former Indian state police officer and if he is any indication of the rest of the system, Mr. Shami should probably just go with the flow.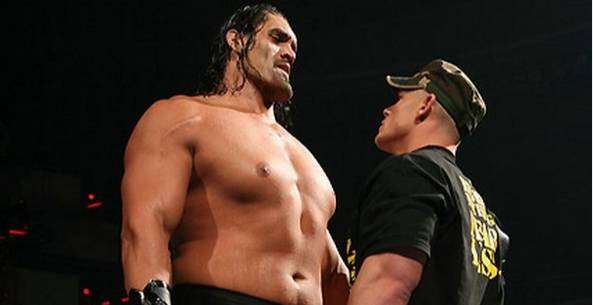 Former Punjabi State Police Officer "The Great Khali" (7'1" 347 lbs) [left] with John Cena