Well guys, it is going to be yet another shocker in the headlines, this morning CNN ran a headline that said "CNN SOURCE: TRUMP DOES NOT WANT TO BE IMPEACHED"… I would like to know their source on that.
But even more shocking than that news bomb, The National Broadcasting Corporation, and their parent Comcast are putting a profit ahead of what is truly best for the American viewing public.
Obviously there is a profit motivation with Comcast globally bringing in about 94.5 billion USD in 2018.
But in the US one of their more lucrative contracts is that with the NFL and the domestic sports market, NBC's NFL contracts are about $1 bn, in non-super bowl years, and about a 35% bump in their year of the rotation to carry the championship game.
This is all nothing new, both entities like a good 'ole cash grab every now and then, and it has long been suspected that this is the only reason that Thursday Night Football exists.
The motivation for TNF notwithstanding, the arguments against it are a bit soft.
One we here frequently is that there is not enough time to prepare, or that 3 days off is not enough… SOFT.
You play 16 games in the regular season, and during those games you play for about 8 seconds at a time and then get a break. Hockey plays 82 games, and they at least make the shifts 30 seconds or more, and certainly don't pause after every, single play.
Think of looking at depictions of old wars, two army's lined up in a straight line, and Aim, fire, reload, repeat, how silly it seems to do that over and over again… that is football. So shut it with your "short week" complaints, the fact that you can measure the time in-between games in weeks and not days is just downright sad.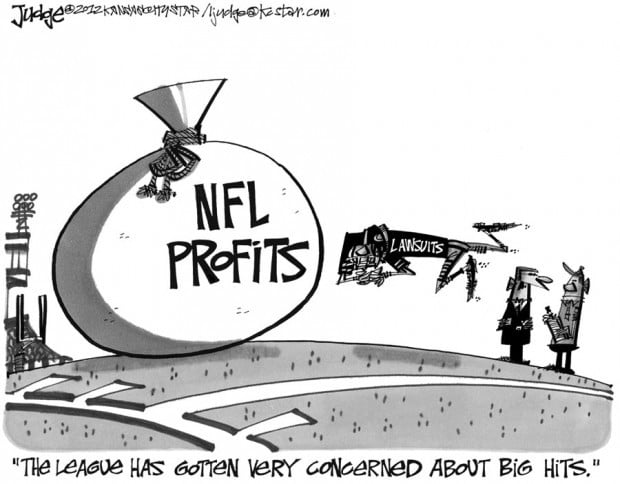 American football is a cultural staple, and we get into it, mainly because it is tradition, and it is what everyone else is into around us.
Nobody will quit it because they don't want to be the man out at the watercooler on Monday.
But what if there was a better option? Something that could easily take the place of professional football, give all of the thrill of a contact sport with a non-spherical ball without the game design that harkens to Napoleonic battles?
I think such an option exists and it is trying to carve out a spot in the American sports market, and NFL Commissioner Goodell and his dark forces are in cahoots with the money grubbers at NBC to keep it down.
With good reason the NFL is afraid that Rugby, yes the sport invented by a man who decided that the no hands rule in soccer was dumb and just tucked it and ran.
A sport that has been called "footballs older brother", and one that is now on North American soil. The NRFL (National Rugby Football League) has begun operation, and rugby is the fastest growing sport in America (since 2004).
It has all of the grit and contact of Football, but without any of those silly stoppages and pads.
This is a sport that could offer significant competition to the NFL which has become increasingly precarious in its top spot in recent years, with controversy and player discontent mounting.
American Rugby is poised to pop, with success in the Sevens competition (
See my blog on that from June HERE
) and the raising availability of Rugby Union it is time.
However, back to the dastardly desperate plot by NBC and the NFL to keep American sports fans scrum free.
The rugby world cup is underway currently in Japan, and NBC is the exclusive North American broadcaster, this should be a good thing right? WRONG. NBC has put the majority of the matches on its online streaming service "NBC Sports Gold" which offers many sports that don't often make the national broadcasts, Lacrosse, motocross, the smaller tennis and golf tournaments, as well as all access passes to EPL soccer and other international events.
But there is one noticeable difference, the price.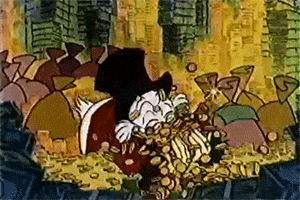 The PLL (upstart Premier Lacrosse League) is roughly $38 for the season, the world's most popular sport and best league the English Premier League will run you $65 for the season.
But Rugby, the 2019 World Cup alone, that will cost you $200, or a whopping $30 per match.
So NBC, why? Why have you held this worldwide favorite, this undeniably entertaining sport behind a prohibitive pay wall?
Sure you have made it available, but no one outside of the preexisting die-hard fans are going to fork over the cash.
You have essentially prevented new viewers from coming to the sport, and I want to know how much Goodell and the NFL paid you to do it. I think this definitively means that the powers in the American sports market are shaking in their boots over the potential that Rugby has to turn things on their head.
Personally I will be finding myself a nice Reddit stream to support the world #13 American Eagles as they take on #3 England, your pay wall will not prevent me from enjoying a true premier contact sport, no matter how hard you try.