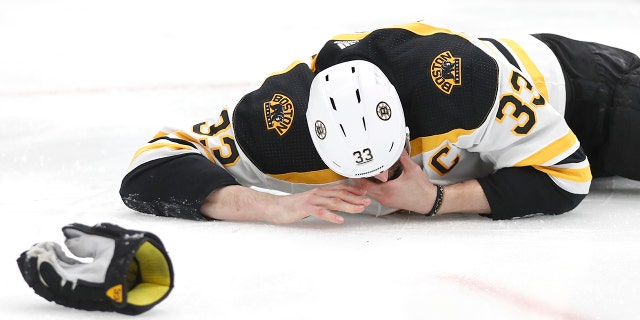 The St. Louis Blues Win game 4 to tie the series, the big guy bleeds and returns for moral support only, and I have a request;

Dear NBC,
Please stop bothering celebrities between periods of the Stanley Cup Final.

As seems to be a tradition in the Stanley cup finals especially when a less common team is in the mix, a celebrity fan was invited into the intermission report.

Last night it was Jon Hamm, a proclaimed "St. Louis Superfan" and I actually don't doubt that at all, he seemed to know the game better than most.

However as a fan of a team that just won their first Cup Final/ Home Cup Final game in history, this may be the only chance he gets to take in a victory with the crowd.

I get that it was an intermission, but still let the man go out grab a beer and "The Boris" (Which is Pastrami, Cajun turkey, cream slaw with 'borisradish' sauce) and really get the whole experience.

This is not to say the Mr. Hamm is not an entertaining addition, we all know that he is famous for his large D- ose of talent, but let's not make hockey Hollywood.
Thanks.
I love seeing celebs get into the sport, it raises the profile and that is good for everyone, this year is a bit lacking in that regard.
After the spectacles that were put on by Vegas and Nashville in 2018 and 2017 respectively, the city of St. Louis rolling out Don Draper and Pam Halpert is really not comparing.
Mainly because neither of them are going to be able to top the Hall of Fame intermission appearance by a visibly sauced Carrie Underwood in Nashville 2017.
Who can blame her, it is a hockey game, her husband is the captain and her city is buzzing, she probably straight up forgot she was due to be on live television, at least the Preds were winning. I am not sure if Jon Hamm would've partaken in the drink, he seems like he might almost take it too seriously, but I am guessing if he had tipped back a few he would've been less restrained as he visibly struggled to find TV-G words to describe how he felt about the short-handed game tying goal.
Celebrities during games are fun, Beer chugging NFL Players (RIP Aaron Rodgers, wasn't a hockey game but still a tough look), flag waving Olympians, the noogie heard round the world, or my personal favorite Brett Hull flying the bird to someone on ice.
But as fun as all of those mid game cameos are, stop exploiting them during the intermission, for their sake as well as the integrity of the broadcast. In that same vein I can only imagine Mike Emrick dies a little every time he has to read a promo for "The Secret Life of Pets 2".
Play Gloria, on to Boston for game 5. Buckle up if I were a betting man I would say this series is going go at least 6.