There has been a crime against humanity committed.
If not humanity certainly against competition, and without a doubt an all-out abomination of the word "champion".
For those of you who were looking to take in some televised competition yesterday, but the cricket world cup was a little too fast paced for you. (Shout out West Indies demolishing Pakistan by seven wickets.)
And naturally you weren't watching the NBA finals, because who cares, you know that sport is a joke when the biggest story-line from a game one upset is Drake yelling at players, classy…. Classy.
So no CWC or NBA, but you still had a craving for the intensity and the drama of competition, well then there was only one option.
The greatest tradition in all spelling, hands down the premier academic contest that focuses entirely on middle-schoolers spelling words.
Now there are lots of spelling competitions, but I think any student of the game would agree that the Scripps national spelling bee has been on top of the word slinging game.
However the waters that Scripps wades in maybe calescent (heating up) as the officials made a game time decision yesterday to crown not one but 8 champions.
After what I am told was 20 nail-biting rounds (I didn't watch) in the finals the tournament officials decided that that it was time to mercifully wrap it up, and call everyone a winner.
This is a move we would expect out of the Special Olympics, but not such a storied and upstanding event with a long history of making 13 year old kids cry for not knowing how to spell Antediluvian. (The biblical period before the flood) Now before I sound too much like a Chiefs fan and start suggesting we change the overtime rules, let's just think for a second about what happened here.
There are about 15 people on the planet who care about this bee, and all of them just saw participants so good that they got bored.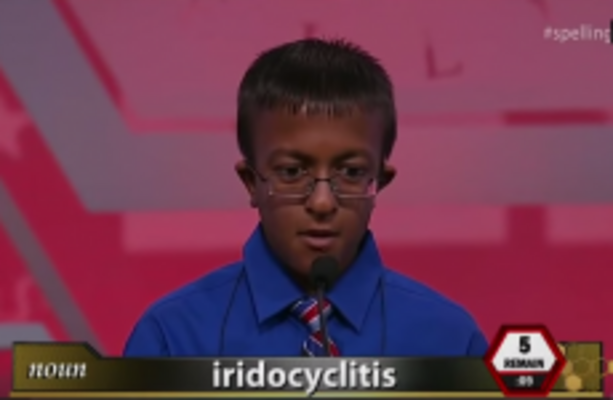 Scripps is about to realize that the other major spelling bees are not willing to be part of an eight way tie at the top and are already taking shots.
The director of the South Asia Spelling Bee threw out a "this would never happen at my bee" which feels like just the beginning of what may become the biggest beef in the game.
The South Asian Spelling Bee is primed for a takeover of the spelling world, it has served like the G league of spelling. (Full disclosure I at one time thought that the NBA had 8 minor leagues before I realized that the 'G' designation was just a cash grab) Churning out prospects like
Narahari Bharadwaj
, Syamantak Payra and Sriram Hathwar.
With names like those there is no word that the nerds over at Scripps are going to be able to challenge these whippersnappers with.
(I should note that all of these SASB champs are American Born. *Chants USA USA*) So the Spelling world is primed for conflict and I am all for it, because these guys are going to use Twitters 280 characters to more effectively eviscerate their enemies than anyone in history. (Though it does appear that @ScrippsBee is ready for that smoke)
To any of the polysyllabic-ally proficient pubescent competitors who finished anywhere near the "Octo-Champs", start crafting your letter of disapproval and protest, and if I were you I would trade in some of the members of your unfathomably deep vocabulary for some four letter words when doing so.